About Us
25 years of experience
About us
25 years of experience
Our business in the field of marine tourism sets off its activities in the early 90's, with the formation by Dimitris Zafeiropoulos of the "WaterAction Sports School", based at Agrari beach, Mykonos. During that period, he charted small vessels to those eager to know the wild and unknown beauty of Mykonos.
Being a skipper himself, he introduced the yet to be discovered Mykonos to many visitors of the island. The feedback he received, providing such a service, was enthusiasm and excitement. This gave him the motivating power to design and build a yacht that could host more guests.
This led to the launch of Glassbottom Discovery, a yacht with 10 square meters of glass at the bottom of her salon. The construction itself it is a mechanical achievement, while every detail has been scrutinized and perfected.
Glassbottom Discovery is so unique, that not only she can host up to 80 people, but she is also built according to the standards and the comfort that a yacht can provide.
Since then, the growing demand for additional and tailor-made services made imperative the expansion of the services that we provide. Nowadays, Mykonos Yachting, our leading company, has in its asset 9 motor yachts, all of them based at Mykonos island and available for private charter.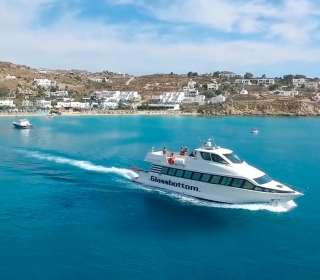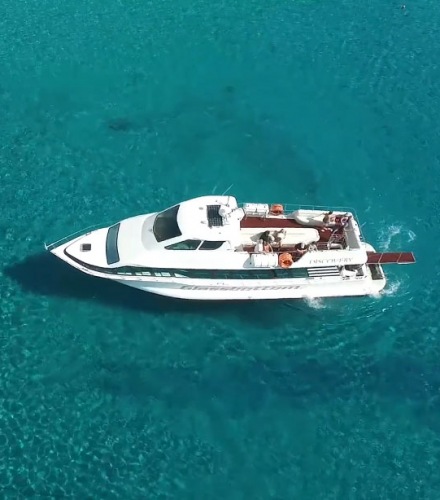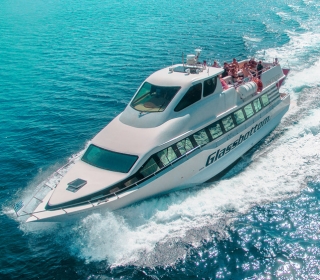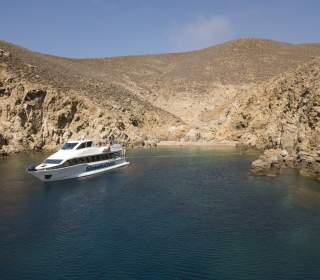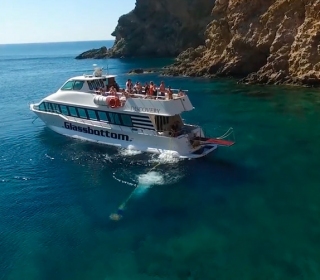 Mission / Philosophy
Create Experiences
Knowledge of our field paired with excellence in customer service is what distinguish us. We helpfully inform and suggest – but we never forget that we are here to serve you. We will be here for you both before your trip and throughout your cruise to make sure everything runs smoothly and seamlessly.
Why choose us
Official member of Hellenic Professional Yachts Owners Association
Privately Owned Yachts
Discovery Glassbottom, as all the yachts presented by Mykonos Yachting, are company's property.
Therefore you get the best rates avoiding any brokerage fees and ensuring that you are chartering a yacht in an excellent condition.
Experience and Know-how
Being in the marine tourism for more than 2 decades has given us the experience and the know-how, so as to create unique and unparalleled holiday experiences for you.
Everyone in our Team holds all the relevant certificates and she/he is well experienced so as to provide you with the best of service.
High Quality and Customized Services
We put our standards high and everyone in our Team is focused on you. We listen to your wishes or ideas and we plan together your ultimate travel experience, while we offer a variety of services.
High Safety and Security Standards
Mykonos Yachting abides by the strictest and highest international standards of safety and security. Being the owners of the Yachts, we personally take care of all the relevant issues, while our team is occupied with the Yachts' maintenance all year round.
Thousands of Satisfied Guests
Every year thousands of guests receive our services and they are writing their impressions at our Guests' Books. We are proud of their testimonials; those are your guarantee and the proof that we deliver what we promise.
Certified Travel Agency
Mykonos Yachting is certified by the Greek National Tourism Organization as a Travel Agency. Therefore, Mykonos Yachting complies with all the relevant laws, instructions and requirements imposed by the Greek legislation.

24/7 Services
Our 24/7 Reservation Team handles on-the-go requests and are the best people to share your thoughts and plan together your cruise.
Due to our extensive experience, we will provide you with the optimal proposals at the best rates in the shortest time.
Secure Transactions
Certified as a travel agent, Mykonos Yachting has taken all the necessary precautions, so as to assure your transactions, applying strict transaction security specifications in line with international standards.
The security of banking transactions carried out via credit card are under the secure e-commerce environment and is our top priority, both in regards to the protection of your personal data and to the confidentiality and integrity of the transactions you carry out.