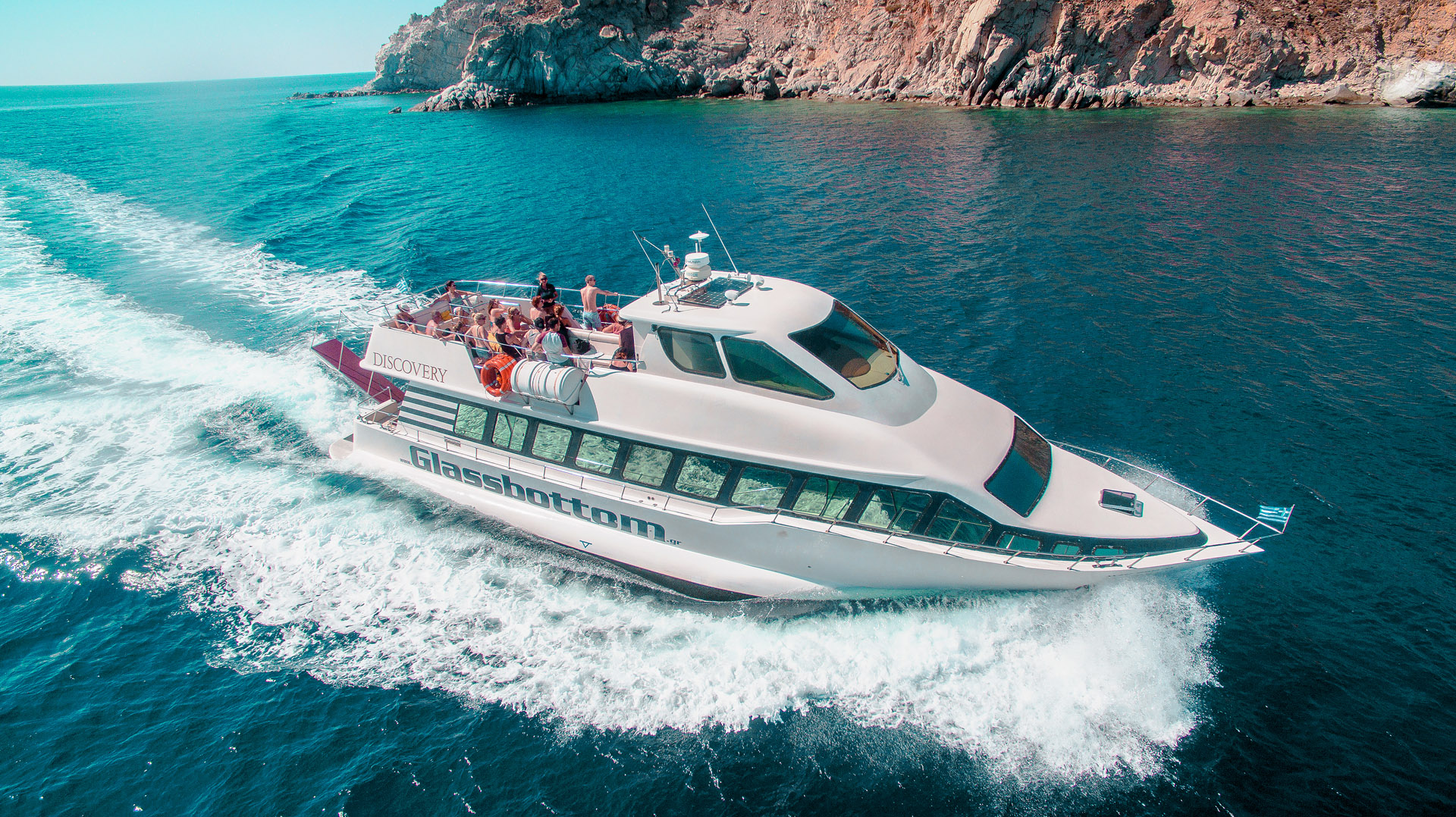 The Cruise
A day full of experiences
JOIN US AT THE
DISCOVERY GLASSBOTTOM
EXPERIENCE!
ITINERARY OVERVIEW
Departure from Platis Gialos Port at 12:00 hrs.
Cruise alongside the southern beaches of Mykonos
1st Break either at Dragonisi isle or at Kalafatis or Loulos Beach for swimming & snorkeling (depending on the weather conditions)
2nd Break at Agrari Beach for swimming, snorkeling & water sports
Enjoy on-board a traditional Greek lunch
Return at Platis Gialos Port at 18:00 hrs.
Duration: 6 hours
The testimonials of our guests could not illustrate it better!
Let us make your Mykonos cruise
an unforgettable expercience
MYKONOS SOUTH COAST CRUISE
A unique cruise towards the famous and yet to be discovered beaches of Mykonos.
Discovery Glassbottom Yacht departs daily from Platis Gialos Port and cruises towards the famous and unexplored beaches and bays of Mykonos island. Sit on the leather cushions of the spacious upper deck of this luxurious motor yacht of 67 ft. / 20.42 m. length and get a 360⁰ view of the beauty of the Cycladic scenery.
Live the moments while we make them memorable ones.
Once on-board, witness the magic and the history that lies beneath the sea's surface; the 10 m² of glass at the bottom of her salon will reveal you the underwater beauty of Mykonos. Let your senses be carried away!
Our people on board will be there to welcome you with the famous Greek hospitality; our captain will safely plan the itinerary, our escort will provide you will all the necessary information about Mykonos, while our crew member will be there to assist in everything you may need.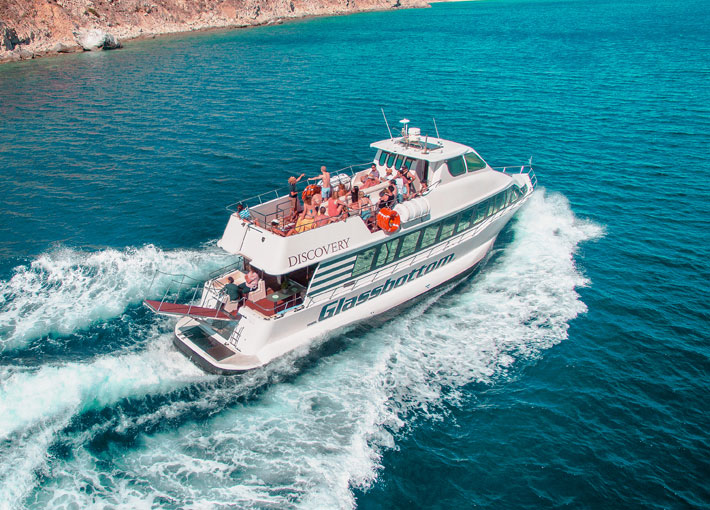 ITINERARY
We are capturing moments. We are creating unique experiences!
Having Platis Gialos Port as starting point, we cruise alongside the famous beaches of Paraga, Paradise, Super Paradise, Agrari, Elia, Kalo Livadi, Agia Anna, Kalafatis, Lia and Fragkia.
We reach up to the further eastern end of Mykonos and you are able to enjoy the island's beauties from a totally different perspective; you get to know the jet set venues and the eternal Cycladic beauty.
We pass by beautiful small bays that cannot be approached by any other mean. You see a whole new angle of Mykonos, one that you would have never imagined existing.
Under the sole condition that the weather permits it, we end up at one of the beautiful beaches of the uninhabited, rocky isle of Dragonisi, which can only be approached by a yacht.
Here, at one of its beautiful beaches, we anchor. Take your time to swim and snorkel; the unrivalled natural deep blue waters will certainly amaze you!
If the weather conditions are not in our favor and do not permit our reaching to the isle, we do instead our first stop either at Kalafatis, a beautiful and easy-going beach, or at Loulos, a beach which features a pebbly seabed, crystal clear water, and small rocks. It is time for relaxing!
Once again on board, continue exploring the beautiful island of Mykonos and reach up at Agrari beach. Agrari has remained one of the quietest beaches of Mykonos. One can find shelter here away from the busy crowds.
Now it is time for swimming, sunbathing and snorkeling. And, if you feel like having fun or if you want to feel the adrenalin in your veins, grasp the chance offered by "WaterAction School"; waters toys & activities with a 30% discount just for you! Our qualified, well trained, experienced and friendly team will show you all you need to know.
Next to follow is a traditional Greek lunch on board, to get your taste buds tingling, served with the etiquette of the Greek hospitality; savor your meal in a unique setting.
Finally, after a day full of excitement and new experiences, we go back to where we started, at Platis Gialos Port.
Book Your Ticket
INCLUDED IN THE CRUISE
Traditional Lunch
The sea and the sun will definitely open your appetite; sit back and enjoy your meat BBQ meal on board
Snorkeling Equipment
Your snorkeling gear will be there for you; put it on and discover the magic and the tranquility
30% Discount at Watersports
Take advantage of our great offer, a 30% at all water toys and activities at Agrari beach
Useful Info
RATES
Complimentary for up to 5 years old
60 € / person from 6 – 12 years old
100 € / person from 13 years old
Maximum Number of Participants: 30-35 people
Booking Procedure
In order to make a reservation for the daily shared cruise with Discovery Glassbottom Yacht, you may proceed by making an online booking through our web-site www.glassbottom.gr .
From Client's side, the booking intention is confirmed, when payment is paid by the Client or the Client's representative.
From the Company's side the booking is confirmed when full amount of the payment lands on its account. Subsequently, the Company shall confirm via e-mail the reservation and forward to the Client all the details of the reservation, i.e. cruising date, itinerary, number of participants, received amount, inclusions and any other extras.
CANCELLATION POLICY
Should the Client cancel her/his reservation, whatever the reasons may be, the Client shall be liable to inform the Company in written per e-mail about the cancellation without delay. If no notice of cancellation is received, then the Client will be subject to the following Cancelation Policy.
If the cancellation is made 8 days or earlier to the scheduled reserved date, then the whole amount of the advance payment is refundable.
The Client shall be charged for the cancellation in the amount of:
-100% of the total rate if the reservation is cancelled within 7 prior to the reserved date. The same applies on non-shown up cases.
Should the cruise be cancelled due to restrictions of the Greek Port Authorities in reference to the departure, due to bad weather conditions, the Company shall be liable to suggest a different date. If such rescheduling is not in accordance with the Client's schedule, the total amount received, will be refunded back to the Client. The Company is not responsible for any additional expenses or losses that may incur to the Client as a result of the cancelled booking, such as but not limited to, hotel fees, non-refundable transportation costs, loss of salary, time and enjoyment and all other expenses pertaining to the Client's cruise.
All laws and restrictions of Greek Port Authority are applicable to every yacht's category in reference to the departure according to the weather conditions.
FAQ
HAVE A LOOK AT SOME OF THE MOST FREQUENT QUESTIONS POSTED BY OUR GUESTS. IF YOU STILL HAVE MORE QUESTIONS, FEEL FREE TO CONTACT US AT ANY TIME!
Where do I need to come in order to join the cruise? Our meeting point is at Platis Gialos Port, located at the South Coast of the Mykonos.
How can I reach Platis Gialos Port? Either by car, taxi, or the regular buses departing from Fabrika / City of Mykonos (http://www.mykonosbus.com/mykonos-platy_gialos.en.html)
Is there a transfer service provided? We can arrange your pick up and drop off to your hotel at a supplement charge.
At what time do I need to be at Discovery Glassbottom Yacht? As the Yacht departs at 12:00 hrs. sharp, you need to be at Platis Gialos 20 minutes prior to the departure time (11:40 hrs).
Does the cruise run every day? The cruise runs every single day.
What do I need to bring with me? Your swimwear, your towel and your sun protection.
Do I have to pay extra for the lunch? The BBQ meal is included in the price.
Is there any alternative in regards to the lunch, as I am a vegetarian? Grilled vegetables are prepared for you. Just let us know when making your reservation.
Are there water and drinks on board? The Yacht has her proper bar where water, refreshments, drinks and cocktails are served at supplement charge.
It is almost my first time on a yacht. Will I get seasick? The Yacht is built so as to ensure that cruising is always gentle, while at Mykonos there is only wind and no waves.
Will there be a guide on board? Our multilingual escort will be there to welcome you and give you all kinds of information regarding Mykonos island.
How can I reserve? You can reserve via our website or you can take your voucher on spot from our Office, at Platis Gialos Port (upon availability).